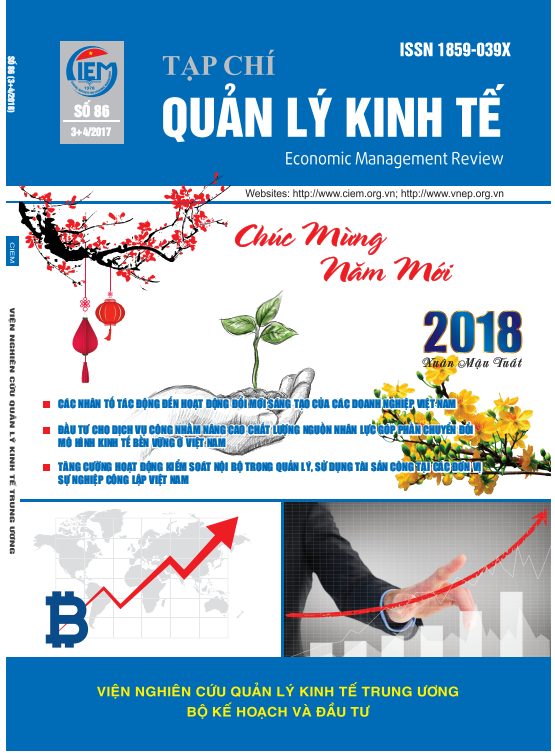 TABLE OF CONTENTS
RESEARCH AND EXCHANGE
HO DINH BAO, TRUONG NHU HIEU
Determinants of innovation activities in Vietnamese firms
NGUYEN QUOC VIET, LUONG THI NGOC HA, HA THI NHU HUE
Public services investment: improvement in the quality of human resources that contributes to the transformation to sustainable economic model in Vietnam
VU DUC HIEU, TRAN THI THUY LINH, NGUYEN PHUONG MAI
Impacts of export on economic growth of ASEAN countries
EXPERIENCE AND PRACTICE
VU THI KIM ANH
Strengthening internal control activities on management and use of public assets at Vietnamese public non-business units
TRAN MINH DUC
Improving agricultural production efficiency of ethnic minority zones in the Central Highlands
NGUYEN HOANG TUAN
Solutions to assist vietnamese export enterprises in implementing good ASEAN's Rules of Origin
BUSSINESS ENVIROMENT
CHAU NGOC HOE, NGUYEN THI THANH VAN
Growth green in agriculture of Southern Central Region in the present context
NGUYEN THI THU HANG, NGUYEN THUC ANH
Principles of Responsible Management Education and its applicability in Vietnam
VU MINH DUC
Some issuses on assessing the effects of interactive marketing commnunication
DETERMINANTS OF INNOVATION ACTIVITIES IN VIETNAMESE FIRMS
Hồ Đình Bảo
Trương Như Hiếu
Abstract
The paper was designed to figure out factors affecting the R&D and innovation activities of firms in Vietnam. The empirical results showed that access to skills, finance, and external information had insignificant impacts on process innovation and new market opportunities. International integration was likely to have positive impact on the probability which firms engaged in R&D and innovation. In addition, the firms' size, labor quality and percentage of direct workers receiving training were the most important determinants of R&D investment and innovation of the firms.
Keywords: Probit model, R&D, innovation, inclusive growth.
PUBLIC SERVICES INVESTMENT: IMPROVEMENT IN THE QUALITY OF HUMAN RESOURCES THAT CONTRIBUTES TO THE TRANSFORMATION TO SUSTAINABLE ECONOMIC MODEL IN VIETNAM
Nguyễn Quốc Việt
Lương Thị Ngọc Hà
Hà Thị Như Huế
Abstract*
Vietnam's extensive growth model has shown many weaknesses, especially over the last 15 years, reflected through indicators such as GDP, TFP and ICOR. One of the major direct causes is inadequate investment in human resources, particularly in healthcare and education. International experience shows that investments in health and education have a lasting impact on improving the quality of human resources, contribute largely to sustainable growth. Although the investment rate for these two sectors has increased significantly in the last five years and is in the middle of the region, the absolute spending per capita is quite low and there are still many problems such as investment is spread out, focused on quantity instead of quality. At the same time, these investments depend mainly on public sector, lack of active participation of private sector.
Keywords: public service, quality of human resource, economic transformation, sustainable economic model.
IMPACTS OF EXPORT ON ECONOMIC GROWTH OF ASEAN COUNTRIES
Vũ Đức Hiếu
Trần Thị Thùy Linh
Nguyễn Phương Mai
Abstract
This study focuses on analyzing the relationship between export, trade openness and economic growth in South East Asia countries. The study applies fixed effects model and random effects model to point out positive effect of total export volume and trade openness to economic growth for 7 countries Cambodia, Indonesia, Malaysia, Phillippines, Singapore, Thailand and Vietnam in the period of 1993 - 2004. Based on qualitative and quantitative analysis, the study suggests some policy recommendations for promoting export to boost above countries' economic growth.
Keywords: random effects model, fixed effects model, export, trade openness, economic growth, ASEAN.
STRENGTHENING INTERNAL CONTROL ACTIVITIES ON MANAGEMENT AND USE OF PUBLIC ASSETS AT VIETNAMESE PUBLIC NON-BUSINESS UNITS
Vũ Thị Kim Anh
Abstract
Internal control in public finance management is an important measure to ensure the proper management and use of public finances, which has contributed to properly restore the value of internal resources, to restructure the organization of rational, tight, thrifty and effective management. However, the internal control in the management and use of public assets in Vietnamese public non-business units currently has disclosed some problems and limitations in regard to the guideline mechanism and policy on internal control in public non-business units. This is clearly reflected in the lacks of its completeness and synchronization; the absence of regular and close coordination between internal control activities and external activities. In addition, internal control is not really implemented in depth; the transparency of internal control results has not been paid timely attention. Therefore, the further research on strengthening internal control on management and use of public assets at public non-business units is really necessary.
Keywords: internal control, public assets, public non-business units.
IMPROVING AGRICULTURAL PRODUCTION EFFICIENCY OF ETHNIC MINORITY ZONES IN THE CENTRAL HIGHLANDS
Trần Minh Đức
Abstract
The Central Highlands is an upland area of Vietnam with many ethnic minorities. In general, the face of this multi-ethnic land has changed dramatically. However, the development of this area during the past time is still at a slow pace; while the difficulties, poverty are still high, and the life among localities and between Kinh ethnic group and ethnic minorities is still much different. The article points out major difficulties in agricultural production of ethnic minorities in this area, then proposes some suggestions and solutions contribute to improve the production efficiency in the coming time.
Keywords: agricultural production efficiency, ethnic minorities, Central Highlands.
SOLUTIONS TO ASSIST VIETNAMESE EXPORT ENTERPRISES IN IMPLEMENTING GOOD ASEAN'S RULES OF ORIGIN
Nguyễn Hoàng Tuấn
Abstract
Meeting the requirements for rules of origin is an important condition for enjoying preferential tariffs. In recent years, however, the reality of trade between Vietnam and ASEAN member countries has shown that Vietnamese enterprises face many difficulties in meeting the regulations on ASEAN's Rules of Origin. This makes Vietnamese enterprises lose competitive advantage when exporting to ASEAN market. Based on the analysis of the application of rules of origin for exported goods to ASEAN countries, the article proposes some solutions to help Vietnamese enterprises to implement good rules of origin in ASEAN in the coming time.
GROWTH GREEN IN AGRICULTURE OF SOUTHERN CENTRAL REGION IN THE PRESENT CONTEXT
Châu Ngọc Hòe
Nguyễn Thị Thanh Vân
Abstract
Greening agriculture is the key to sustainable development of agriculture. In the context of implementing National Strategy for Green Growth in Vietnam, theoretical researches and applying green growth practice in sustainable development of agriculture at the regional level are very necessary. In recent years, the agricultural sector in the Southern Central Region has achieved some initial success in converting from traditional production to greening production. However, the results of greening agriculture in this region are rather limited, mainly in some experimental models, the popularity of these models is very low. This study focuses on: (i) Analyzing some models of green agriculture in the Southern Central Region, (ii) Evaluating difficulties and challenges in practicing green growth in agricultural production in the Southern Central Region; and (iii) Proposing policy recommendations aiming at promoting greening agriculture in the Southern Central Region in following years.
Keywords: agriculture, green agriculture, growth green, Southern Central Region.
PRINCIPLES OF RESPONSIBLE MANAGEMENT EDUCATION AND ITS APPLICABILITY IN VIETNAM
Nguyễn Thị Thu Hằng
Nguyễn Thục Anh
Abstract
Responsible management education plays an important role in improving responsibility of managers for subtainable development as well as enhancing capbility of future businessman in creating long-term value for enterprise, then economy and society. Solution is changing content, method of education and the educational environment, research associated closely with businesses, communities. The article adresses Principles of Responsible Management Education – PRME and its applicability in Vietnam.
Keywords: principle, education, Responsible Management Education, substainable development.
SOME ISSUSES ON ASSESSING THE EFFECTS OF INTERACTIVE MARKETING COMMNUNICATION
Vũ Minh Đức
Abstract
Interactive marketing communication is using online communication media and offline media to improve communication with consumers and interaction between consumers and marketers. The objects of traditional communication and interactive marketing communication are similar but the way to assess effects of traditional communication and interactive marketing communication is different. The measurement on effects of interactive marketing communication is to focus on assessing control process, perception and reaction of consumers, results of using interactive media and satisfaction and belief of consumers in interactive process.
Keywords: interactive marketing communication, assesing the effects.